Third Time's a Charm for Nevada's Captive-Focused Insurance Commish
Third Time's a Charm for Nevada's Captive-Focused Insurance Commish
New

You can now listen to Insurance Journal articles!
Scott Kipper's list of LinkedIn experiences runs 14 items long, but that's not so much him bragging. He's moved around a lot in a career that stretches back more than 30 years.
He could have just left off some of the less important experiences, but it would be difficult for him to pick which ones to axe.
Three experiences are as Nevada's insurance commissioner, showcasing an unprecedented third stint as the state's insurance regulator. Kipper's first go as Nevada Insurance Commissioner was from 2008 to 2010. He was appointed commissioner again in 2011, holding the office through 2015.
Another on his long list of experiences is as deputy commissioner in the Office of Health Insurance in Louisiana, a role he held twice (2005-2007 and 2010-2011). He also served as insurance administrator at the Oregon Insurance Division from 2007 to 2008.
In between his previous stint as Nevada's insurance commissioner, he ran his own consulting company and worked in executive positions in compliance and government relations at three firms.
He most recently served as the deputy director of operations for the State of Washington Office of the Insurance Commissioner.
Kipper's list of experiences starts off as a health analyst at the National Association of Insurance Commissioners, serving the NAIC from 1996 to 1998 in perhaps the least impressive role on his list of experiences.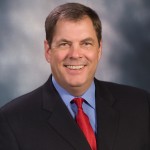 Almost as striking as his long list of experiences is the regionally nomadic life the 66-year-old has lived. Born in Nebraska, raised in Wyoming, Kipper has lived in 11 states – a few of those were multiple residences.
Nevada's Insurance Commissioner
Kipper was appointed to his third stint as insurance commissioner in late February by Nevada Department of Business and Industry Director Terry J. Reynolds, placing him over an industry with $22 billion in written premium and more than 1,600 carriers licensed to conduct business in the state. His appointment to head the DOI was made following the resignation of Barbara Richardson, who served in the role since 2016.
Kipper's previous tour as commissioner was highlighted by an aggressive push to bring more captives to the state, resulting in more than $4 billion in captive premiums by 2014, toward the end of his time in the role.
Making Nevada a captive capitol, and finding deeper meaning in his work, were among the reasons he said he headed back into public service over a year ago, and eventually back into his old role as commissioner.
Kipper found that he missed public service, and after years of private consulting, he grew less satisfied with his work compared with his time in the public sector. Private work may pay well, but there are many problems and hurdles embedded in one's daily grind.
"You know you're, well, I wouldn't say a hired gun, but you're working for companies that, generally, they don't hire you unless they have a problem. Right?" he said. "You know, some of it was good work, and some of it was a real challenge."
When he went back to work as a deputy commissioner last year for Washington Insurance Commissioner Mike Kreidler, who Kipper has known for 20 years, he found his "passion for public surface service" hadn't subsided.
"Public service is a big incentive for him," Kreidler said. "And I think it is for many of the people who serve as insurance commissioner and people who work in commissioners' offices."
Both men share the public service passion and have a distinction among the nation's insurance commissioners.
Looking back through records from the National Association of Insurance Commissioner, it appears Kipper is the only commissioner to hold a post three times for the same state (excluding people's stints as interim insurance commissioner or a deputy).
Kreidler is the nation's longest serving insurance commissioner, and he'll be heading into his 24th year when his terms ends. The 80-year-old says he's unlikely to seek reelection.
Kreidler also complimented Kipper's year of service under him, proving the two share third thing: a sense of humor.
"He did a great job," Kreidler said. "I keep hoping he'll find it so miserable in Nevada and ask if the job is still open, so he'll come back."
Kipper's new(ish) job as insurance commissioner comes as the state continues to experience rapid population growth, which has blown up urban areas like Las Vegas and Reno, while there remain wide swaths of sparsely populated areas.
This demography creates broadly varying insurance needs, where auto or homeowners insurance profiles and needs, for example, in one spot may be far out of whack with the other.
"We still have a lot of people and two very metropolitan areas, and very little population throughout the rest of the state, which creates an interesting dichotomy for us as regulators because we have such extremely rural areas in most of the state and then very extreme metropolitan areas in Vegas and in Reno," Kipper said. "And, so each of all of those areas have their own unique regulatory challenges."
However, the biggest challenge facing Kipper has nothing to do with making regulations.
Finding warm bodies to fill vacancies is on top of his to-do list. The department is in need of people to fill positions "across the board," from licensing to investigations to financial analysts, according to him.
"One of the effects of the pandemic and one of the challenges that we're facing here, which is not really a regulatory issue, but is one of finding enough qualified staff to do the work that we need," he said. "In Washington, I think that the vacancy rate was 15% to 17%, and we're seeing that here, and regulators across the country are also saying that it's been a challenge finding enough qualified staff. So that's really been a challenge for us."
Third Time's a Charm
Kipper has a blue-collar way about him. He speaks plainly in a relaxed tone, and one would be hard-pressed to find a hint of "I" or "me" in most of his comments. Also absent are terms like "my insurance department," or efforts to point to his track record.
People have been congratulating him about his (re)appointment, or those that are seeing him for the first time back in town again after a few years' absence stop him and ask him what he's up to, and they're likely to get a dose of his humble humor.
"I was telling somebody this the other day, they said 'Oh, you're back again?' I said, 'Well, I'm gonna keep trying to do this until I get it right.' But I'm not sure what that necessarily is. I don't know what I would do differently," he said.
Seconds after recalling the story, he followed up by immediately talking about his interest in bringing more captives to Nevada.
In 2022, the state counted 155 active captives accounting for $482.3 million in premiums, according to the Nevada Division of Insurance. That's down from a peak of 201 captives in 2017. While total premiums were at a high last year, the number of captives has steadily fallen in the last five years, DOI figures show.
Nevada is considered one of the country's oldest captive domiciles and was consistently among the states with the highest number of captives. The state's captive program incentives include a tax rate on a captive's direct written premium of 0.4% of the first $20 million, and a tax credit of up to $5,000 applicable to the first year of a captive's acquisition of a Certificate of Authority.
Competition for captives and the premium taxes they can generate have heated up in recent years.
"Most states now have a captive program," Kipper said. "You know, we need to reevaluate and make sure that Nevada is still a very attractive domicile, and if not, what we need to do to is get us back in the forefront."
Auto Rates/Cannabis
And his other goals?
They include getting personal auto rates under control, and facilitating insurance for growing or emerging industries, like cannabis.
"You know, our personal auto rates have certainly caught the attention as being relatively high or at least have increased a great deal over the last five or six years," he said. "And it's a reflection of not only more people driving in a confined space, but in the growth (in the state) and the challenges of the supply chain, the expense of used cars," he said. "So, it's nothing unique, but that doesn't ring well with our consumers. So, we try to make sure that they're still going to get the best value they can for their dollar and make sure rates are correct."
The last time he was commissioner, voters in Colorado and Washington approved ballot measures to legalize the recreational use and sale of cannabis, making those the first two states to do so. Nevada and some of its neighbor states didn't follow until 2016 or later.
"You know, this has come so far in the time since I was here last, I'm really excited about the possibilities of risk management when it comes to the cannabis industry and new and better ways for them to manage that risk," he said. "I'm excited to be trying to figure out ways that we can make greater efficiencies for them and their risk management. I think there's lots of room, for smart, creative risk managers in that field."
Kipper covered a few other items on his to-do list, talked about getting situated in his first month on the job, and when pressed for what he'd do differently in his third stop at commissioner, he drew on his blue-collar humility and offered a folksy analogy.
"It would be like different words to a verse in the same song," he laughed. "So does that make some sense? You know, we still have all the basics that we have to do. We still have consumer services that hasn't changed much. We still have to work with the administration and the Legislature, and that hasn't changed – much different issues, but it's still the same process. There's always going to be vacancies in state government, no matter how hard you try. We can become more creative in trying to attract talented individuals to the Division of Insurance. So that really hasn't changed, but it's just variations on how we do things and, and variations on that language in the song."
That philosophy may explain way he's returned as commissioner for a third time. Could it lead to Kipper singing variations on the same song for perhaps a fourth time at some point in the future?
Probably not. This is likely to be his final tune and the last stop in a long and winding tour in insurance regulation.
"It's probably gonna be the old commissioner's retirement home," he said of his next post. "That's probably what it's gonna be."
Related:
Was this article valuable?
Here are more articles you may enjoy.