Preparing to Meet and Exceed SMB Owner Demands for Insurance
Preparing to Meet and Exceed SMB Owner Demands for Insurance
(Image credit: Joshua Rodriguez/Unsplash.)
In creating and marketing a product, it can be extremely helpful to create buyer personas. Most of us have had some experience in developing or reviewing buyer personas. There is one area of insurance, however, where buyer personas become slightly more complex because they are layered. If I'm an insurer trying to sell a particular voluntary benefits product, for example, I have to considerthe employee as a purchaser and customer, the SMB owner as a facilitator and customer, and a benefits broker as both a distribution channel and communicator. How does the insurer or voluntary benefits provider reach the SMB employer with the right products in the right channels in a way that will be helpful and will appeal to the employees?
The answer is technology.
The SMB insurance market is a large, valuable market. It's always growing and worth reaching. It pays excellent dividends for those who are prepared to meet their needs. But there are some keys to unlocking the market. We can find those keys by looking at the perspectives of the crucial stakeholders — the SMB owners and their employees. Majesco research can lend evidence to your buyer personas by giving you details surrounding SMB owner and employee sentiment. Begin your data gathering using SMB survey statistics from Majesco's 2022 SMB report, A Rapidly Changing SMB Landscape: Growth Opportunities Grounded in Grit and Resilience. In today's blog, we'll look at five lessons that insurers can use to maximize opportunities in the SMB space.
Gen Z/Millennial SMB Owners Will Consider Shopping Through Any Channel
Channels are changing and SMB owners are open to the changes. According to Majesco's survey, when securing voluntary benefits for their employees, Gen Z/Millennial SMB owners continue their pattern of considering all channel options. They outpace Gen X/Boomers across traditional, new, and high-tech options from 19 to 35 percent, as reflected in Figure 1.
While Gen X/Boomers' strongest interest is with traditional agent/broker (65%), medical/healthcare networks (65%) , and insurance company channels (59%), their interest pales in comparison to the younger generation SMBs with 84 to 87 percent interest for these same channels. Other channels over 50 percent for the older generation include digital HR platform (56%), financial planning/retirement service (54%), and a human resources consultant (52%), but once again, these pale in comparison to the younger generation with 79 to 85 percent interest for the same channels.
Figure 1: Interest in voluntary benefits purchase channels
These large differences across a broad array of channel options highlight the dramatic shifts underway for the younger generation of SMBs that are seeking insurance solutions through other trusted relationships that help them manage their businesses more effectively. In many cases, the purchase of these benefits aligns with the business relationships they trust and value. This means that insurers need to develop new partnership options to offer their products to meet this new generation of SMBs on their terms of where they want to buy…not based on how it has always been done.
Lesson 1: Prepare your business and technology for channel expansion or lose opportunities.
What do these statistics mean to insurers? Flexibility in channel options can only be guaranteed through new, platform-based business models, partner ecosystems and real-time data management. These are necessary to become a valued supply partner for everyone—brokers, SMB owners, aggregators, and any manner of group distribution partners.
Group and Voluntary Benefits insurers once lived in a semi-blissful state as brokers working with SMBs offered a standard set of benefit plans to their employees. As the employee market shifts and demand for different voluntary benefits landscape broadens, SMB owners must branch out to customize their full package offering for different generational employee groups.
"Customers are willing to throw away prior benefit plans for something that is much simpler and digitized."—Insurance executive/round-table participant
The survey results reinforce the need for insurers to rethink their business to align with a changing employee workforce.
Gen Z/Millennial SMB Owner Interest in Voluntary Benefits is Growing in All Categories
Both Gen Z/Millennial and Gen X/ Boomer SMB segments consistently align in interest for traditional benefits, having a higher interest in some than others, as reflected in Figure 2. Those in the high-interest category are what many consider the baseline benefits needed to attract and retain employees – health, vision, dental, and life insurance. Surprisingly, disability insurance was not in the high-interest group, particularly given the regulatory and legislative push and the two years of the pandemic.
The medium interest category includes other health-related products including long-term care, accident, disability, hospital indemnity, and critical illness which have garnered more interest as a result of the pandemic, particularly for the younger SMB segment with long-term care, hospital indemnity, and critical illness standing out.
For the newer benefits emerging in the market, Gen Z/Millennial SMBs' interest outpaces the older generation, reflecting their shifting needs and lifestyle. While small percentages overall, the differences are 1.5-4 times more than the older generation, reflecting a strong shift in needs and expectations that are expected to accelerate as the younger generation continues to upend workplace expectations.
Lesson 2: As young SMB owners mature into their roles, non-traditional benefits and services, and medium-interest benefits and services will be increasingly sought. Insurers must prepare now.
This is an insurer's window of opportunity to create new offerings, launch greenfield products on fresh technology and reimagine how SMBs and their employees will best be served. Great new product and service ideas will have to be fueled by digital service, channel flexibility, and proactive partnering.
Figure 2: Types of voluntary benefits SMBs offer employees
SMB Owners and Their Employees are Not Aligned on Which Benefits are Desired
Majesco compared the SMB and Consumer (individual) research results and found that owners are clearly not aligned with their employees needs and expectations. Figure 3 shows the cumulative gaps between employees' interests and SMBs' offerings. Even the traditional benefits of health, dental, vision, and life have significant gaps, where the interest in dental insurance is nearly 50% percent higher than the level at which SMBs offer it. The largest cumulative gaps are created by Gen X/Boomer SMB owners, especially for their like-generation employees.
Figure 3: Gaps between employees' interest in voluntary benefits and SMBs' offerings
Lesson 3: Insurers can help SMBs improve employee retention and acquisition.
Insurers have an opportunity to position the value of a wider variety of benefit plan offerings, particularly given many of them are employee paid. Even more importantly, it can help drive the number of products per employee and create an opportunity to develop longer-term customer relationships should the employee leave.
In this case, insurers need to continue to create products that are sought-after and easy to use. Then, they need to communicate with both SMBs and SMB brokers in terms that make it very clear—"THIS benefit will be easy to bring in and it will pay its way."
SMB Interest in Using Telematics to Control Premiums Grows
A few years ago, fostering health and wellness in the workplace was probably the last thing on most SMB owners' minds. With climbing health costs, growing focus on healthy living and a difficult labor environment, interest is rising. According to Majesco's survey, using fitness tracker data as an input to group life and health insurance premiums has shown strong increases in the interest of 26 to 30 percent compared to our 2018 SMB survey for both SMB segments (See Figure 4). The younger generational group still has a much higher interest with nearly a 29 percent difference compared to the older generation, reflecting their strong interest in lifestyle wellness and the use of fitness trackers. There is a substantial increase in interest by the older generation, however, likely due to the increased use of fitness trackers and an increasing desire for a healthy lifestyle as they age, emphasized during the pandemic.
Figure 4: Interest in ways to use/activate and determine the cost of employee group/voluntary benefits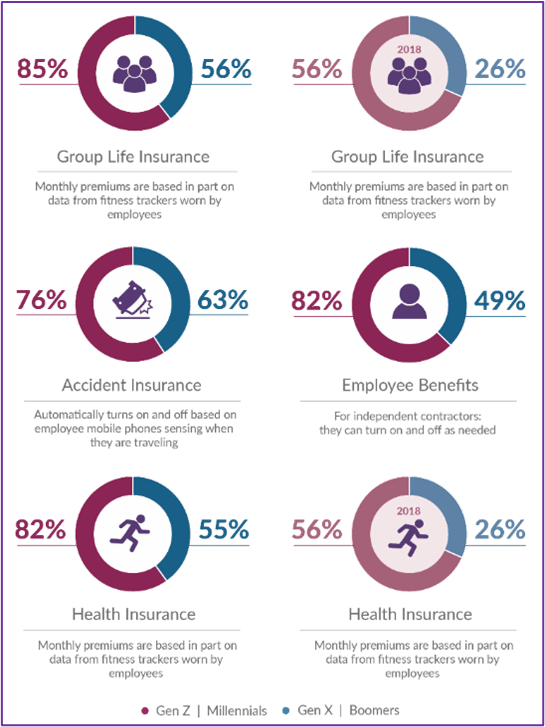 Lesson 4: SMB owners are willing to partner with insurers to help them decrease costs and improve employee health.
Both generational segments are open to the use of telematic data for health premiums, but they are also interested in activating accident insurance via a mobile phone sensor. This marks a definitive shift in the SMB owner mindset. If both groups are willing, are insurers making it easy to share telematic data and reports with SMB executives? Are they willing to build out the right technologies in order to cultivate loyalty in the relationship?
An offshoot of the voluntary benefits conversation is access to benefits for independent contractors or Gig workers. The younger generation of independent contractors or Gig workers would like benefits that will turn on or off based on when they work for a company. In the rapidly changing workforce market, innovative benefits that address part-time, Gig, or independent contractors for different periods are becoming key differentiators in the fight for talent. Insurers will be expected to adapt their products to support this changing workplace expectation.
Perks and Value-Added Services May be the Wave of the Benefits Future
Perks are everywhere. In the retail sector and in the travel, dining, and entertainment sectors, the companies with points, perks, and loyalty marketing continue to gain marketshare.
SMB owners, who are big users of credit card rewards, airline miles, and free hotel nights, can easily grasp the idea of linked data and value-added services.
Majesco found that interest continues for both SMB owner segments in having access to value-added services including discounts on gym memberships. More importantly, the use of data from fitness trackers, apps, or smart toothbrushes that would drive lower premiums, and provide health alerts or health/wellness goals and recommendations, is of overwhelmingly higher interest to the younger generation, up to 29 percent more than the older generation. (See Figure 5).
Figure 5: Interest in value-added services for voluntary benefits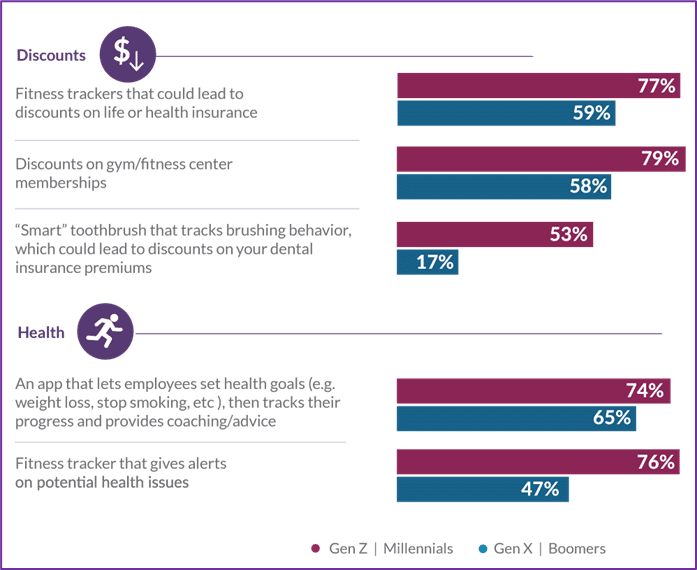 Providing additional context using our consumer research data, Gen Z/Millennial consumers'/employees' interest in value-added services exceeds both SMB generational segments' interest in offering them, as seen in the first and third column stacks in Figure 6. The older generation of consumers/employees is also more interested in these services than Gen X/Boomer-led SMBs are in offering them, as seen in the fourth column stack. But as seen in the second column stack, they have less interest than Gen Z/Millennial-led SMBs do in offering them.
Figure 6: Gaps between employees' interest in voluntary benefits value-added services and SMBs' offerings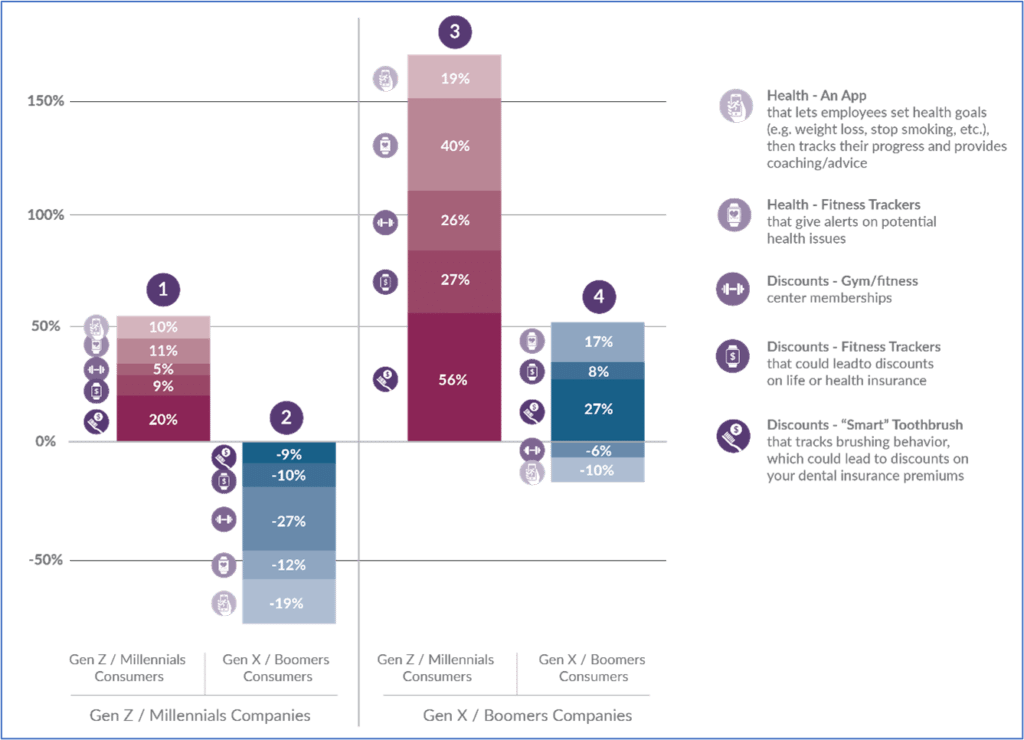 This disconnect between SMB's and their employees is one that will likely increase as the workplace environment continues to shift to increased demands by the dominant younger generation. Insurers will need to help SMBs address this through the benefits and value-added services they can offer, creating an opportunity for premium growth and increased loyalty.
Lesson 5: A value-added services strategy is enabled by technology
Value-added benefits are strategic game pieces that allow organizations to partner, shift and even move some of their income out of risk-bearing utilities and into ancillary profit centers. Most steps into value-added services also open the doors of additional insurance marketing. For example, an insurer offering value-added apps that link to traditional benefits may give them an entry into selling that benefit.
Likewise, an insurer with a data protection app or a health coaching app may be able to keep the relationship going after the employee has left the SMB employer. Value-added benefits are versatile if they are approached in the right way.
SMBs need insurer help. Their HR and benefits programs are strapped for time and they are cost-conscious. Gravity pulls them toward benefits that are easy to administer and those that add value to their bottom line. It helps if those benefits also improve recruitment or retention. Insurers need to simultaneously improve their offerings, improve digital service and improve their ties to brokers and other partners. The technologies that will place them in the right position are not hard to come by. Every day Majesco helps insurers meet the needs of group and voluntary markets with the technologies that will sell through both brokers and other channel partners. We give insurers with initiative a competitive boost.
Are you ready to meet the demands of a new employee marketplace? Are you ready to capitalize on the new needs of the SMB market? Contact Majesco today. To dig deeper into Majesco's SMB research, be sure to read, A Rapidly Changing SMB Landscape: Growth Opportunities Grounded in Grit and Resilience.
2-Minute Q&A #8: Getting the Most out of Your Transformation Journey