Climate gets personal – activists protest at Chubb CEO's home
Climate gets personal – activists protest at Chubb CEO's home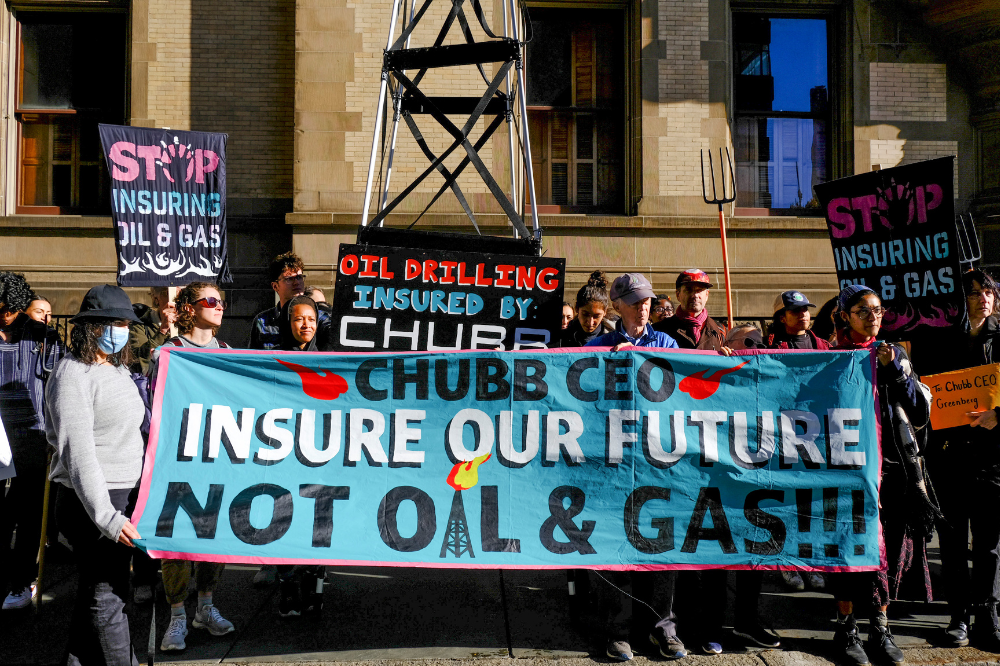 Immediate demands from the protesters included that Chubb enact a policy to end cover for fossil fuel expansion projects and to make sure that indigenous communities have given consent for any projects it insures that impact them.
"One of the things that we've heard […] is that Chubb is insuring projects that are drilling oil in people's backyards, or they are building pipelines through their sacred territory, and so we wanted to bring what Chubb is enabling in the energy industry to his [Greenberg's] house, because he and his company are complicit in these harms against communities around the world," Elana Sulakshana, Rainforest Action Network senior campaigner, told Insurance Business while attending the protest.
"We wanted to make sure that he saw this; he cannot ignore the climate crisis, and the impact of the projects that his clients are building and that he is insuring."
Insurance executives like Greenberg have "massive power" to stop fossil fuel industry expansion, Sulakshana said.
Today's action is part of the broader Insure Our Future campaign, Sulakshana said, which is targeting the largest oil and gas insurers in the US.
"Chubb is not our only target, but it is the one for today and a key one, because it is such a large fossil fuel insurer and it has some of the weakest policies of the big US energy insurers," said Sulakshana.
"According to a scorecard report that came out last week, Chub is ranked number 22 out of 30 global companies for fossil fuel and climate policy, near the bottom of the pack – and because it's such a large company, what it does has ripple effects through the rest of the industry."
Multiple groups have been linked to today's action, including Rainforest Action Network, Public Citizen, 350NYC, Rise and Resist NYC, Catskill Mountainkeepers, and No North Brooklyn Pipeline.
Chubb has been approached for comment.
Climate activists have become a common sight at insurance industry events and outside some insurers' offices.
Extinction Rebellion activists attempted to block access to the Baden Baden reinsurance conference in Germany on Monday.
In May, Lloyd's of London, which has faced a series of protests including a fake coal dump and protesters occupying its London headquarters, urged people not to attend its annual general meeting due to activism concerns.
Read more: Lloyd's urges members to attend AGM online amid risk of protests
Physical protest has not been the only tactic employed by activists, who have also used digital means in a bid to disrupt insurer operations, including a 2020 "calendar jam" initiative that saw people urged to send invitations regarding the Adani coalmine project to select CEOs' online schedules.
Shareholders have also weighed in on insurance's role in the climate challenge, with Chubb, The Hartford, and Travelers all having faced down votes at their most recent AGMs to end fossil fuels underwriting.
Read more: The investors taking on fossil fuel insurers
Chubb shareholders did back a non-binding resolution on reporting plans for the measurement, disclosure, and reduction of greenhouse gas emissions.